Terminal
Genetic improvement is our constant vision at First Choice Genetics. For generations our Duroc lines have been selected to maximize lean gain efficiency, high meat quality characteristics and bottom line profits.
The FCG Duroc is a very sound, tough, durable and aggressive boar. His offspring excel in growth and are lean and deep-loined hogs. FCG Duroc are available through semen, trained AI stud boars and jump tested natural mating boars. Join our many satisfied customers and put a highly selective FCG Duroc to work in your herd. We can tailor a selected trait for your barn for maximum return on your bottom line.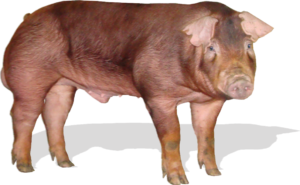 First Choice Genetics Quality By Design
Excellent conformation
High birth weight
Fast growth
Excellent piglet vitality
High muscle yield
Low backfat
Jump test
High health status
Duroc Ultrasound
Our Durocs are real-time Ultrasound probed. Actual measurements include:
Fat depth
Loin depth
Loin area
Shape of loin
% lean
Loins are screened for Marbling on the Longitudinal ultrasound scan.
Duroc litter during farrowing.
AI Centers
Terminal & Maternal semen available at these two AI centers